Anthropology News is the American Anthropological Association's (AAA) award-wining member magazine, published bimonthly in print and continually on our website.  
Each issue of the print magazine (distributed to AAA members) is developed on a theme—often topics of general interest, current events, or discussions in the discipline—by the editor who works directly with authors. The editor solicits content through CFPs to the whole membership and direct invitations.  
The Anthropology News website (open to the public) publishes stories from the print magazine and much more in the way of topical and timely content, AAA news, in memoriam notices, and submissions from AAA sections.
Anthropology News is a place for telling insightful and analytical anthropology stories. Our aim is to champion engaging, incisive, anthropology writing and multimodal content from across the discipline. We aim to develop fresh scholarly or professional argument that appeals to anthropologists and anyone with an interest in anthropology. Think magazine-style stories with scientific bite. Telling our stories and sharing our expertise in this way is not about simplifying our empirical work or reducing our complex ideas; it is about using a clean and clear style to convey that complexity and nuance.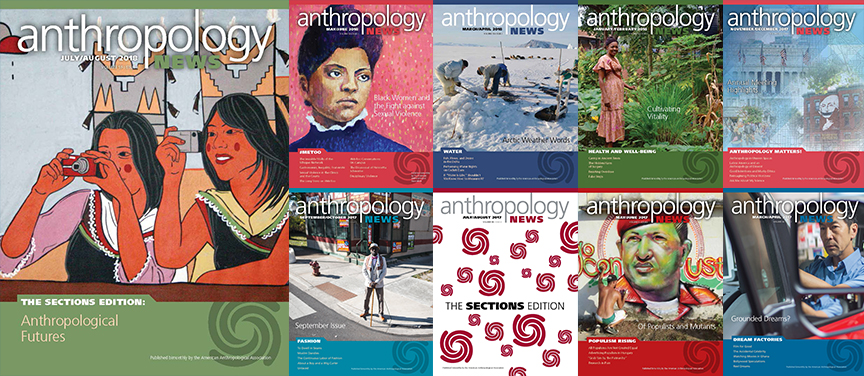 Contact Information
For information about Anthropology News, contact us at an@americananthro.org.
You can also contact us and follow us at @news4anthros.
Submission guidelines can be found here.
Information for advertisers is available here.
Information about the AAA's Anthropology Book Forum is available here.
Citation Instructions
We recommend using the following examples as guidelines for citing AN articles. 
Print: Villarreal, Aimee, and David F. García. 2018. "Our Laboratory of Anthropolocura." Anthropology News, 59(4): 20–21.
Online:  Hodges, Adam. 2018. "Reclaiming 'Allahu Akbar' from Semantic Pejoration." Anthropology News website, August 1, 2018. DOI: 10.1111/AN.934